Koa Organics
Regular price
Sale price
$29.50
Unit price
per
Sale
Sold out
Koa Organics Organic Magnesium Body Butter with Peppermint sleep peacefully with soothing peppermint.  Aching muscles, restless legs and sleep troubles can all benefit from the power of topical magnesium.  If you are not a lavender fan, try this invigorating alternative.
Level up your evening routine by adding a nightly application of this silky body butter to ensure a blissful wind-down, or start your day with clarity as you inhale the fresh scent of peppermint essential oil.  Topical magnesium chloride is known for its relaxing properties, while peppermint is linked to stress relief and can relieve aches and pains.

We recommend applying this magnesium body butter with peppermint before bed to assist with whole-body relaxation.

Try a little on the temples or the back of your neck to help with headaches. Divine!

Powerful Peppermint if headaches, back pain or joint discomfort are bothering you, you'll love this. Peppermint oil is widely used to ease cramping and tense muscles, with its soothing and cooling effect bringing relief.

Peppermint oil can also help bring clarity to the mind and improve cognitive focus - helpful for long work projects, study, assignments and exam time. Bye-bye brain fog!

Also known to calm the mind, taking some deep breaths as you apply this magnesium body butter can do wonders for nerves and anxiety.

A precaution on using peppermint oil - people who are pregnant or suffering from asthma should consult their doctor before use. Even though the peppermint oil is mixed with carrier oils in very small 'aroma only' quantities, we suggest not using on or around children who are 30 months (2.5 years) or younger in age, or under 6 years if suffering from asthma or other breathing problems.
Ingredients contains nourishing Organic Shea Butter, Organic Extra virgin Coconut Oil, pure Magnesium Chloride from the Zechstein seabed, distilled water, Organic Jojoba Oil, Candelilla Wax together with relaxing Organic Peppermint Essential Oil, Vitamin E and Grapefruit Seed Extract
Size 65 grams
Store in a cool place and keep the contents dry. This is essential in the warmer summer months.
Proudly made in Rotorua.

Share
View full details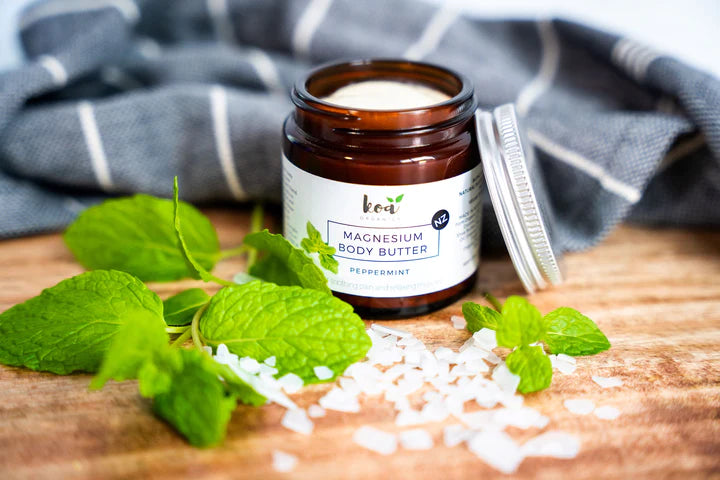 Feature a compelling customer review about your product or brand.