Koa Organics
Regular price
Sale price
$29.50
Unit price
per
Sale
Sold out
Koa Organics Organic Magnesium Body Butter with Lavender assists in relaxing muscles, so you can sleep better. Sleep tight with this vegan blend of 100% NZ natural and organic body butter infused with Magnesium and Lavender essential oil.
Topical Magnesium Chloride is known for its relaxing properties, while lavender is widely recognised for its ability to aid sleep.
Aching muscles, restless legs and sleep troubles can all benefit from the power of topical magnesium. Add this silky body butter to your evening routine to ensure a blissful wind-down, inhaling the divine relaxing scent of lavender and enjoying the moment as you treat yourself to a mini-massage while applying this best-seller from Koa Organics.

Feedback from users say they use this little jar of NZ organic goodness for their general aches and pains. arthritis and fibromyalgia, period pain, menopause symptoms and more. We recommend applying this magnesium body butter with lavender before bed to assist whole-body relaxation. If you don't have any specific sore muscles, try rubbing a little on the soles of your feet and enjoy. Divine!

Lavender is known to calm nervous tension and act as a gentle relaxant to aid sleep and ease agitation and irritability, anxiety, insomnia, restlessness, and lift your mood. That said, it makes the perfect partner for Magnesium Body Butter as it can help induce a quicker, deeper sleep with ongoing benefits. Lavender also smells divine - a blissful marriage made in heaven to reduce aches and pains and to de-cramp muscles.

Because we use 100% natural ingredients this butter is safe for use on children. Try a small amount on the soles of their feet first.

Size 65 grams

Contains nourishing Organic Shea Butter, Organic Extra virgin Coconut Oil, pure Magnesium Chloride from the Zechstein seabed, distilled water, Organic Jojoba Oil, Candelilla Wax together with relaxing Organic Lavender Essential Oil, Vitamin E and Grapefruit Seed Extract
Store in a cool place and keep the contents dry. This is essential in the warmer summer months.
Proudly made in Rotorua.

Share
View full details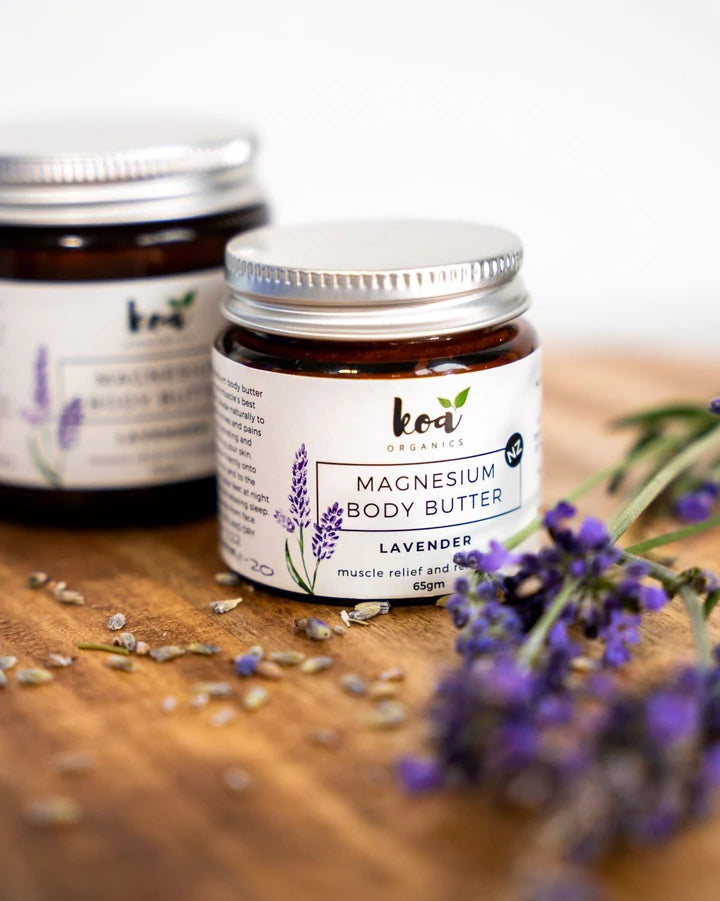 Feature a compelling customer review about your product or brand.